After a considerable amount of thought, I had decided to construct a larger engined Mini. My first choice of engine were the Rover SDi 3.5V8 or the Ford Cologne V6 since both of these power plants were available with a 4x4 gearbox set up.
The option of the V6 For engine was carefully considered and with gaining engine and gearbox dimensions from a 2.94X4 estate, the case for the Ford over the Rover engine was taken.
Shortly after purchasing the whole of the engine,gearbox and transmission, a donor Min was found in a local salvage yard. Over a period of the next few weeks, little by little the bulkhead was cut away until the engine and gearbox were in the correct horizontal and vertical alignment.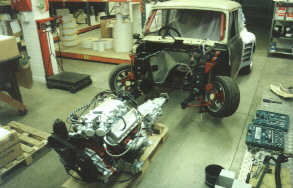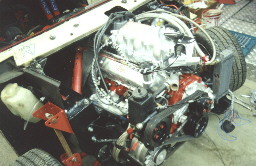 The rear of the car would be much more simple to construct with the radius arm suspension being replaced with a complete front subframe, requiring only the steering to be locked (as in twini mini's) and the diff mounts to be welded into place. Cooling would be handled by a CVH radiator, mounted just behind what was the rear seat, utilising ducting to carry the air from air intakes behind the drivers and passengers door through the radiator and out through the perforated boot lid.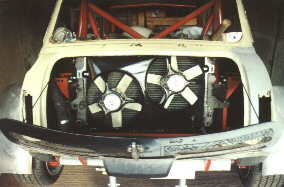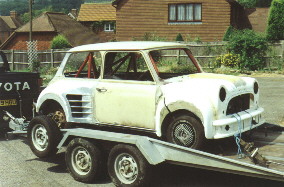 Once the bodywork extensions had been attached, a trip to the local paint sprayer was called for. Its amazing that once the car has returned from the sprayers how your heart is lifted and your mind is set at ease that the end of the project is finally in sight. The car returned on a Thursday evening and with the help of friends' the car went to its first (not driven) show on the Saturday.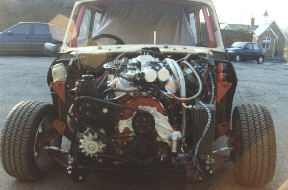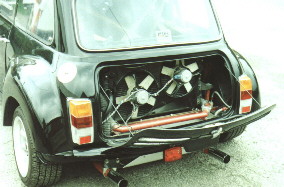 Over the period of the next 6 months, various problems were ironed out including engine management errors, brake pedal effort adjustment and suspension set up.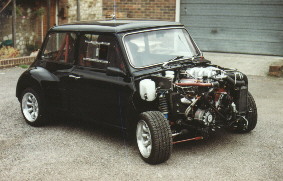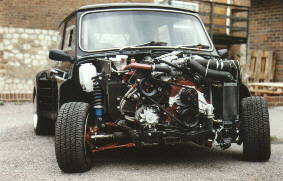 Once the car had got to the point where it was ready for an MOT, serious testing for handling and reliability could take place. I would strongly recommend to anyone who builds a performance racing car to get an MOT and run the car on the road to increase the reliability.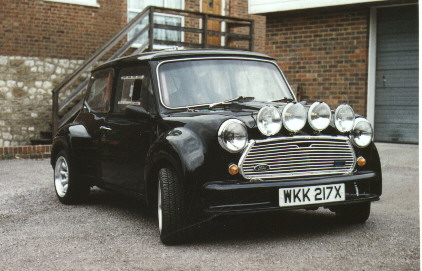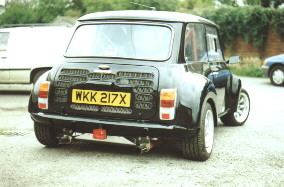 Now that the car was complete, a series of shows and racing events were attended to test the cars performance against other out and out racers. Its first event was at the very impressive Valence School near Sevenoaks where we did not only manage a class win but also won the Best Prepared Car trophy. Sadly, this event is now no longer run.